🔥 Popular Free Downloads
All of our staff training manuals in one handy download!

A totally customisable free staff handbook download.

Keep on top of your expenses with our free profit and loss calculator.
🔥 Popular Pages
⭐ Popular Resources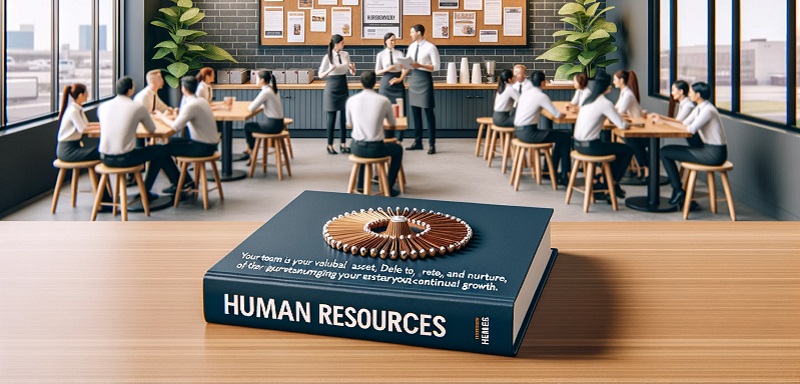 Human Resources Management For Restaurants - With Free Download
Written by The Restaurant Doctor UK Team
Last Updated: 20th October 2023
Human resources management is all about your employees. It covers their rights, their training, their use in your business and their well-being.
The whole subject covers an almost endless amount of topics to discuss so we are going to cover the basics to give you a fair understanding of how to utilise and develop your employees effectively.
Employing People.
To say it in the simplest way you want to hire the right people for the job. This may sound obvious, but how many times have you taken somebody on, only to find out later that they are in fact no good and lack the qualities you require? It would be a lot easier and more cost effective if you hired suitable people to work in your restaurant first time-every time.
The points we want to raise about hiring people to work in your restaurant are:
Decide what your requirements are before advertising for, or hiring staff. (Evaluate your structure and the staff you already have, what do you actually need? What can you afford? Can you restructure instead of taking somebody new on?
Be specific with your advertising. (inform prospective candidates of the duties included and the experience/qualifications required for the post you are offering in your restaurant).
Interview first (don't just hire the first applicant, arrange an interview first to check their suitability, and collect references).
Whatever you do - DON'T DISCRIMINATE, it is illegal. (if an applicant possesses the required qualities to fill the position you are advertising then you cannot reject them just because of their race, religion, gender or sexual orientation - BE CAREFUL!
Regret and offer letters. It is common decency to inform candidates if they have not been successful, send them a regret letter. Similarly send successful applicants an offer letter containing details such as salary, start date and a job description).
Inductions. once you have selected your candidate and they have accepted your offer it is time to conduct the induction. This is when you should inform them about your business goals, objectives, rules and go through the contract of employment and staff handbook. Download a free staff induction programme template here.
Contract of employment. A contract of employment should contain the following information. Details of pay, holiday entitlement, breaks and meals on duty, grievance and disciplinary procedures and maternity pay and leave. (These are merely examples and are in no way exhaustive). Download a free contract of employment template here.
Staff Handbook. It is good practice to give your employees a staff handbook, as these contain all the information they will need to know to carry out their employment in-line with the regulations, rules and laws covering their workplace. Download a free staff handbook template here.
Training & Development.
If you want an efficient restaurant with high standards then you must train your employees and develop their skills in order to maximise their potential and increase the level of service your customers receive.
The individual areas included in your training plan will differ with your restaurant, although the list below outlines the areas we feel all restaurant staff should be trained in:

Customer Care.


Health & Safety.


Fire Safety.


Food Hygiene.


Service Style & Technique.


Up-Selling Techniques.
Bonuses & Retention.
So you hired the right person for the job in your restaurant, now you need to keep them! Keeping good staff is very important to your restaurant and its continuing growth and success, because if your team are all well-trained your standards remain high and your customers will enjoy the high level of service they receive. Plus by keeping your employees long term you reduce the costs of replacing them.
Below is a list of things you can do to keep your employees happy:

Introduce a bonus or incentive scheme. This can be through sales performance, attendance, level of training achieved etc. It is a good way of getting your employees involved in your restaurant and rewarding them for their hard work and effort, which in turn is good for your profits too!).


Offer pay increases with length of service in your restaurant.


Provide a meal for your employees while they are on duty.


Offer discounts for them for when they are not on duty.


Provide subsidised taxi fares for them for late night finishes.


Offer the opportunity for promotion and progression.


Provide your employees with the opportunity to gain industry recognised qualifications.


Be supportive of your employees.


Communicate with your employees.

TO GET YOUR FREE HUMAN RESOURCES MANAGEMENT TRAINING BOOK CLICK ON THE LINK BELOW.
You may also like...
Looking to borrow money or wanting to apply for a credit card, mortgage, overdraft, business loan or even car insurance for your restaurant? This article covers the areas you need to consider when applying for finance, borrowing money and applying for credit for your business. Looking after your money is important, especially money you borrow.