🔥 Popular Free Downloads
All of our staff training manuals in one handy download!

A totally customisable free staff handbook download.

Keep on top of your expenses with our free profit and loss calculator.
⭐ Popular Resources
🔥 Popular Pages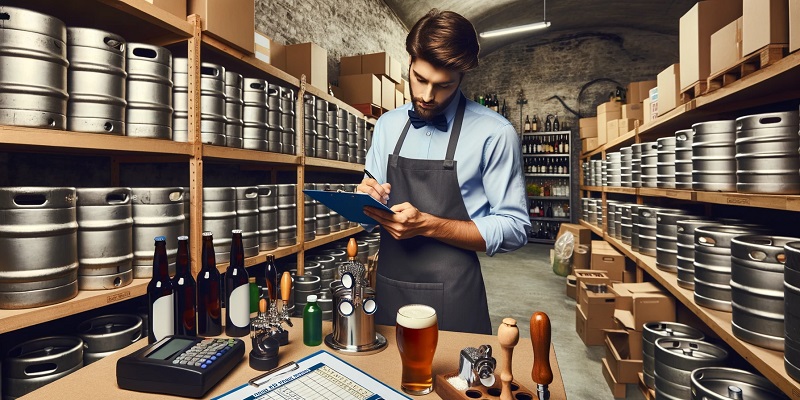 Free Online Bar & Cellar Management Training
Written by The Restaurant Doctor UK Team
Last Updated: 29th October 2023
Mini-Course Details
Bar and Cellar Management can be an exciting and rewarding experience, if it is done right. However, if you are not trained it can lead to stock deficits, drunken arguments and just a boat load of hassle!
This online bar management training guide has been put together to give you a detailed understanding of everything you should know about bar and cellar management. It covers all aspects from understanding ABV's, Point Of Sale merchandising, staff training, changing kegs and even how to pour the perfect pint!.
Bar managers are generally underestimated professionals, they are regarded as just 'pint pullers' but we all know different, we understand that there are a hundred and one things we need to do everyday, a dozen different laws to adhere to, we work unsocial hours and not only that we have to first spend weeks in a classroom getting our personal license.
The information in this guide will serve you well; we hope that by the end of it you will have all the information you need at your fingertips to run an efficient and profitable bar.
As the leading restaurant and bar management training and resource website in the UK we have the knowledge and expertise to help you run a successful bar. We have a lot of experience in the industry and are now able to share our experiences with you.
Learn how to run a bar the way we do, with tried and tested hints, tips, examples and step by step instructions. Each of the main topics involved in running a bar are covered in our free training book, have a look at the quick contents below for each of the areas covered:
Free Bar Management Training Contents:
Counting Stock
Ordering Stock
Working Out Your Stockholding
Rotating Your Stock
Taking Care Of Your Stock
Cleaning The Cellar
Cleaning The Lines
Changing Kegs
Changing The Gas
Changing The Post Mix
Troubleshooting
Displaying And Promoting Stock
Serving Drinks
Up Selling
Bar Hygiene And Cleaning
Your Bar Tariff
Understanding ABV's And UNITS
Weights & Measures
Your Responsibilities
Dealing With Awkward Customers
Dealing With Thieving Staff
Wastage
Training Your Staff
How To Pour The Perfect Pint

You can also download all of the training covered on the website as a free pdf by clicking on the link below:
You may also like...
Looking to borrow money or wanting to apply for a credit card, mortgage, overdraft, business loan or even car insurance for your restaurant? This article covers the areas you need to consider when applying for finance, borrowing money and applying for credit for your business. Looking after your money is important, especially money you borrow.