🔥 Popular Free Downloads
All of our staff training manuals in one handy download!

A totally customisable free staff handbook download.

Keep on top of your expenses with our free profit and loss calculator.
🔥 Popular Pages
⭐ Popular Resources
Displaying & Promoting Stock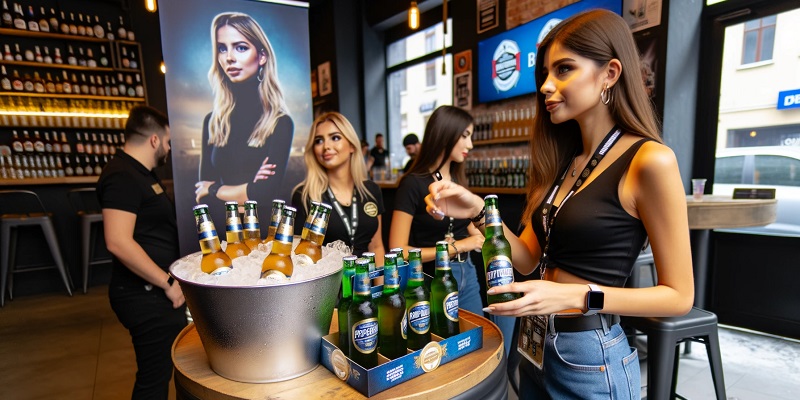 Displaying and Promoting Stock
Written by The Restaurant Doctor UK Team
Last Updated: 29th October 2023
<<< 11. Bar Troubleshooting | 13. Serving Drinks Correctly >>>
If you want to sell your products, you should display them correctly so that your customers can see them. Give your customers the opportunity to try what you have to offer. How do you expect your customers to order a bottle of a new beer you are trying to sell if there are none in the fridge? Or order a spirit if it's not on your shelf or optic!
Below we will list what you should do when displaying your stock to increase sales:
Have at least one of everything in view, if it can be seen it can be sold.
Arrange your stock in sections of type, for example have your lagers in one section of your fridge, beers in another, mixers in another and alcopops in another. This makes it easier for your customers to find what they want.
Always have the labels facing the front of the fridge and on the shelves and the optics. The labels show the customer what they are ordering and also it looks tidy, your fridges, shelves and optics are your showroom.
Arrange your branded spirits in the following order. Left to right vodka, gin, white rum, schnapps, light coloured whisky, dark coloured whisky then dark rum. Finish your line of spirits with your house selections.
Use your shelves and space on the back bar top to promote the products you want to sell more of. This is known as your 'Point Of Sale'. The idea here is you are putting the idea of your customer wanting this product right under their nose and they will be 'prompted' to buy it.
Your displays don't have to be amazing to get the customer's attention, by placing a few neatly arranged bottles, a few posters, some beer mats, and a glass or two in the places where customers look, you will focus their attention on what you want them to buy.
The best ideas for displays and their location are:
Arrange your bottles in a straight line on your shelves, displaying the different varieties available. Do this in order of flavour or colour, e.g. red, blue, white, orange, red, blue white, orange etc. This not only looks 'pretty' but also it grabs the attention of your customers while they are waiting to order.
Display posters and offer information in areas of the bar where your customers are most likely to see them, such as behind the bar, in the entrance, in the toilets, and scattered around the walls or in the windows.
A good location for displaying products is by the till. This is because the customer's eyes are drawn to the till when they are stood at the bar.
Use any promotional tools your suppliers send you. They have been designed for the very purpose of selling their products. Have them displayed in prominent positions behind and around your bar.
Practice with different ideas and types of displays. The more you do, the better you will become and the braver your designs will be.
JUST REMEMBER THAT IF YOUR CUSTOMERS CANNOT SEE WHAT YOU ARE OFFERING, THEN THEY WON'T KNOW IT'S THERE AND STICK TO WHAT THEY KNOW AND TRUST.
You may also like...
Looking to borrow money or wanting to apply for a credit card, mortgage, overdraft, business loan or even car insurance for your restaurant? This article covers the areas you need to consider when applying for finance, borrowing money and applying for credit for your business. Looking after your money is important, especially money you borrow.